Phil Dumas started his company the way many entrepreneurs do: out of frustration that something he wanted was not on the market. His sister sometimes-locked herself out of the house when they were in high school, and he was the one who had to go home and let her in. He developed a disdain for keys and thought surely there must be a better way.
So when it came time to choose a project during his junior year at the University of Central Florida, where he earned a degree in electrical engineering, he turned to what he calls "alternative access control." That was in 2003, and his career path since then has taken him on all kinds of adventures – including an appearance in 2012 on TV's "Shark Tank," where he was the first business pitch in the show's history to receive proposals from all five investors.
Today his company, UniKey Technologies, offers technology that allows people to use a cell phone application to open doors to anything — homes, apartments, commercial buildings, cars, hotels and safes — and also to control who else has access. Locks that carry UniKey's technology can be programmed to meet the needs of the user, instead of the user being at the mercy of the lock.
"Every time you go home, you pull out a key and unlock your door," Dumas explains. "Once you've used a modern smart lock, you realize how archaic that is. You pull the key out, you're fumbling, it's raining … what if your door recognizes you, and you walk up and it unlocks?"
The technology can offer more than convenience, he says. It can also offer more safety than a traditional lock-and-key operation.
"What if you have a maid service that comes on Wednesdays from 2 to 4 p.m., but you have to give them a physical key because you're not there?" Dumas says. "What's to say they don't lose that key or misplace it, or what if a bad actor copies that key? When someone has a physical key, you do not know how many keys are out there. People can duplicate it as many times as they want."
Learning on the Job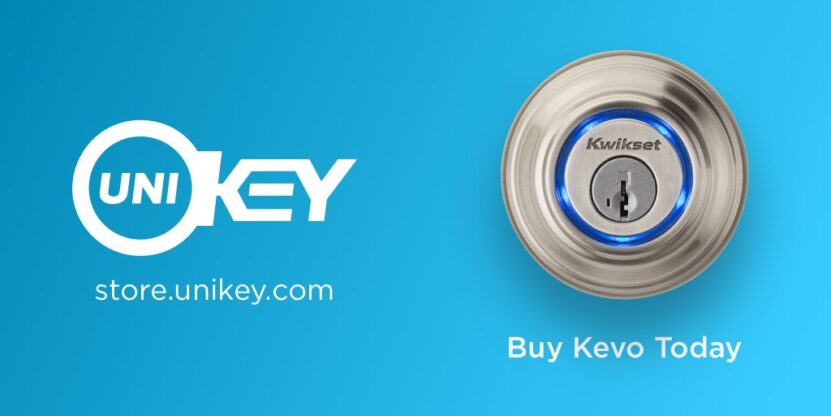 Located in downtown Orlando, UniKey employs about 50 and is continuing to grow, signing partnership agreements with several companies this year to expand its reach into the automotive and commercial markets.
It's come a long way since Dumas first conceived the idea in college. Back then, before smartphones and the Internet of Things were commonplace, technology wasn't ready. So Dumas put his idea on the back burner.
"As I got out of school, I was very interested in that space and interested in entrepreneurship," he says. "Both of my parents were entrepreneurs, and it was all I knew. The corporate path, in a funny way, was more foreign and scary than the entrepreneur path."
He joined a start-up that was working on using fingerprint technology for door locks, safes and computers. Then, when the recession started to hit in 2007, he was recruited by a private equity firm that invested in companies in financial trouble to turn them around and increase their value.
In late 2009, he was still passionate about access control, and he heard about a new technology called Bluetooth Low Energy. Like its older sibling, Bluetooth technology, it facilitated wireless transmission of data. But the new version's low power consumption would allow applications to run on a small battery for years, instead of days, weeks or months. He thought it would be perfect for locks.
"This was the moment, at the end of 2009, where I felt like I could unlock a door with a phone in a more convenient way than a key," Dumas says. "It was very apparent and important to me early on to make a product that was just as good or better, in every way, than the existing solutions like the key, badge, fob or PIN code."
Looking to the Future
Dumas is excited about the possibilities UniKey's technology can offer now and in the future. It can be used to keep track of time and attendance, clocking workers in and out as they enter and leave a retail store. It can be used to manage workflow, opening apartment doors in sequential order as maintenance workers finish one job and move to the next.
Eventually, combined with cameras, it can be used for automated security — for example, allowing banks to limit which customers are approved to enter a branch and which ones are suspicious, possibly because facial recognition technology has identified them as wanted by authorities.
His company is still coming up with more ideas, forging partnerships with others in the space to propel the industry forward.
But Dumas jokes that he didn't get the same creative genes as the rest of his family. His mother is an interior designer, his father is in fine arts, and his sister is a hairstylist.
"I'm a 1's and 0's engineer guy," he says. "I guess their creativity is bred into me somehow, but from a much more technical creative standpoint."
Challenges of Entrepreneurship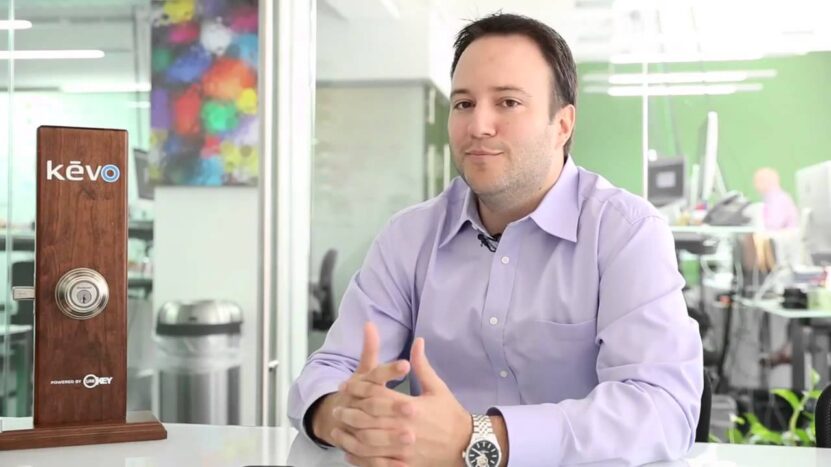 He did, however, get the entrepreneurial gene. Dumas remembers his family riding out waves of good financial times and bad. His parents set the tone and the example.
"When things are going bad, it's OK, there are going to be those times," he says. "They're not more uncomfortable than they need to be. And when things are going good, you don't allow yourself to act like the music is going to play forever. You should start adding to the war chest because the turn's coming. It's a mindset that was subconsciously ingrained in me as I grew up."
He has adjusted to the challenges of entrepreneurship. The first one was finding cash. "They say the rule is that you're going to need twice as much money as you think," he says. "From this venture, I've learned you need an order of magnitude more money than you think you're going to need. We definitely took on a big market that is slow-moving and required a tremendous investment. We've been fortunate to have some great investors.
"And people. We need a lot more people," Dumas says. "Managing a large team was more difficult than I anticipated. But it's been a good challenge and a good growth opportunity for me as a leader, and it's something I continuously work on."
It's taken some adjustment since the days when the team was small and Dumas could interact with everyone daily. Today he has senior leadership in place to help.
"It's been difficult, but I've tried to make sure I still understand what's going on in the trenches," he says. "I think it's important for a leader to know what the team is up against and where the challenges and opportunities are, and to provide vision and guidance at the 50,000-foot level.
"I recommend constantly looking at yourself and what role you need to play in the organization, because as the company grows, inevitably you need to change as a leader. One size does not fit all, especially as you grow from the early stage to growth stage.
"The good news is the days fly. It's certainly interesting. There is not a bland day."
Perfect Pitch
Dumas still looks back on the taping of the Season 3 finale of "Shark Tank." Getting an offer from all five investors was "incredibly validating," he says. He accepted a deal but then ended up turning it down once he saw the paperwork. The provisions about how his company would be controlled were "deal breakers," and he said that to Mark Cuban, one of the "sharks" and an owner of the Dallas Mavericks NBA team.
Fortunately for Dumas, the episode aired — and it still airs all over the world today in reruns. He stays in contact occasionally with Cuban, sending him press releases about major partnership deals, and Cuban playfully jabs back with comments like, "It took you long enough." He also has run into some of the other sharks at entrepreneur events.
People ask him often how he was able to do so well on the show. His secret, he says, was preparation.
"I had given that pitch hundreds of times before I went on there," Dumas says. "Every question they asked me I had been asked and answered at least 10 times and had looked for the feedback and mannerisms of people whose question I was answering, and I kept morphing the answers.
"One of the pieces of advice I give to other entrepreneurs is they should not be afraid to share their ideas, and they should pitch people in full character as many times as they can. Look for the feedback and be constantly tweaking your presentation, because you never know when you're going to have your figurative 'Shark Tank' moment."
For now, Dumas is focused on changing the way the world accesses everything. "This is something I believe in deeply," he says. "The increase in security, visibility, and accessibility is tremendous. However, from a security standpoint, it's important to know you're only as good as your weakest point. The smart lock is not the weakest point, the actual window or the door frame itself is."
He feels UniKey is slowly but surely moving the needle forward on proliferating mobile access control and persuading others in the space to give the technology a try.
"Access control is a very old market," Dumas says. "Keys and locks have been around in a version of their current form for about 1,100 years. It's a relatively mature market, to say the least. It's a giant cargo ship, and it takes a while to turn that boat. We've taken a unique and necessary approach to do it."