The steady rise in crypto mining has led computer manufactures to design dedicated mining components like GPUs and motherboards. Since more people are involved in crypto mining, finding the best mining GPUs and motherboards at a reasonable price is quite challenging. The motherboard is the second most crucial component for crypto mining after GPUs.
To build a competitive mining rig, you need a motherboard with at least 8 GPUs support. To help you find the best motherboard for mining with 8-10 GPUs, I've lined up these four best options. After testing multiple options available on the market, I've figured out these four best options that stood out best in performance and reliability.
4 Best Motherboards For Mining With 8-10 GPUs
1. ASRock H110 PRO BTC + LGA 1151 Motherboard – Best Mining Motherboard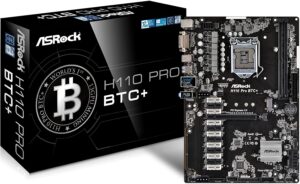 If you are serious about mining and looking for a reasonably-priced mining motherboard, ASROCK H110 is a definite way to go. This motherboard supports upto 13 GPUs and works best with Intel's 6th and 7th generation CPUs. The motherboard is manufactured with serious mining requirements in mind and lets you mine the GPU-based altcoins and other cryptocurrencies like Etherrum.
Additionally, it offers an excellent look of a gaming motherboard, and it supports B530 chipsets. With the support of upto 13 GPUs, you can easily mine cryptocurrencies with Pentium and Celeron 6th and 7th generation processors. The motherboard comes with 4 SATA and multiple RAM ports that might not be helpful in mining but would add value to the motherboard allowing you to resell at a decent price when you are no more into GPU mining.
Moreover, the presence of small details, like onboard power and setup buttons, makes the rig mining a real breeze without a traditional PC case. The most standout part of the motherboard is its affordable price. It is an inexpensive option for the on-budget users who are ready to dip their toes in crypto mining.
If we talk about limitations, there is nothing much to add. One of the few I experienced was the incompatibility issues with Windows 10. Windows 10 doesn't accept more than 8 GPUs of the same architecture, but you can resolve this issue by combining 8 AMD and 5 Nvidia GPUs. Also, Claymore may crash down when you assign more than 3 GPUs to mine, limiting its usability to Ethereum mining. You can deal with this issue by launching Claymore in multiple instances and setting 3 GPUs to each of them.
Pros
Affordable price
Supports 8-13 GPUs
Supports Intel 6th and 7th generation processors
Convenient with onboard details
Multiple SATA and RAM ports
Cons
Tricky application in Ethereum mining
ASRock H110 PRO BTC + LGA 1151 Motherboard is a powerful mining motherboard with support between 8-13 GPUs. You can easily mine cryptocurrency and earn a handsome profit with little investment in this competitively priced mining motherboard.
2. ASUS Prime Z390-P LGA1151 (Intel 8th and 9th Gen) ATX Motherboard – Best Motherboard For Mining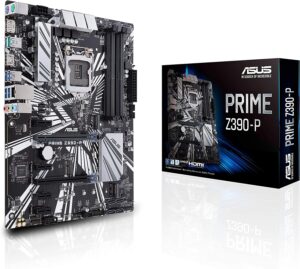 ASUS Prime Z390-P is another powerful cryptocurrency mining motherboard with the support of 8-10 GPUs. The motherboard is equipped with all those features you can expect from an advanced mining motherboard. The motherboard comes with a Z390 chipset compatible with Intel's 8th and 9th generation CPUs. What sets this motherboard apart from its competitors is the dual memory channel support and rugged build quality.
In terms of performance, this motherboard can outperform many powerful options on the market. The unit comes with 6 PCIe slots allowing you to install 8-10 GPUs to take a good start with a powerful mining rig. With dual-memory channel support, enhanced circuit design, and MSI extended PWM, it turned out to be the most powerful mining solution.
With all this setup, you will benefit from its high-end processing speed and reliable performance during extensive mining operations with more than 8-10 GPUs. Another best thing is that it is a competitively priced motherboard allowing you to start crypto mining with a reasonable investment. The presence of the M2 slot and compatibility with Intel's 8th and 9th generation CPUs make it a future-proof option.
I also loved the impressive cooling and protection mechanism that further enhanced the motherboard's reliability. You will get a LANguard, SafeSlot Core, and Overvoltage Protection promising the component longevity and reliability and giving the best value for money. It is a widely accessible motherboard and also offers impressive gaming performance along with crypto mining. Although I didn't notice any major performance flaw, it has a larger profile than other ATX form factors motherboards, which might be an issue for some people.
Pros
Impressive cooling system
Support of M2 SSD and 6 PCIe slots
Easily Support 8-10 GPUs with risers
Cons
Slightly larger than its ATX-counterparts
ASUS Prime Z390P with a set of powerful features like M2 SSD, 6X PCIe slots, dual-channel memory support, and 64 GB, DDR4 RAM is undoubtedly one of the best motherboards for mining with 8-10 GPUs. Since it supports Intel's 8th and 9th generation CPUs, you can easily deal with all high-end processing and bottleneck issues during crypto mining.
3. ASUS B250 MINING EXPERT – GPU Mining Motherboard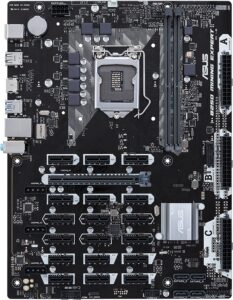 Next on our list is ASUS B250 mining expert, a dedicated mining motherboard featuring all capabilities to build a powerful mining rig. The motherboard comes with an impressive on-bard setup, including 32 GB DDR4 mammary and 19 PCIe slots. With a capability to support 13+ GPUs, this motherboard has made its way to the list of best motherboards for mining with 8-10 GPUs.
The overall infrastructure of the motherboard is perfectly in line with the needs of crypto miners. With the help of PCIe slot state detection, it lets you determine the real-time performance of each GPU in rig mining, making the overall process efficient and valuable. In addition to impressive GPU performance, it takes pride in its remarkable overclocking feature.
From 5X protection to SafeSlot Core and overvoltage protection, it comes with many features to enhance the overall performance and reliability. Since it can support more than 13 GPUs, you can expand your mining rig the way you want. Also, I found setup pretty easy and straightforward, thanks to Triple ATX 12V power delivery. The triple ATX power eliminates the need to use multiple Molex connectors and makes the PSU connection a real breeze.
A few issues I experienced with ASUS B250 are the downtime and overclocking issues. The downtime issue happens for many reasons, and it becomes even frustrating when you are losing money with every minute of downtime. The overclocking problems usually occur while working on a 19 GPUs rig.
Pros
Best for building large mining RIG
Compatible with Intel 6tha and 7th generation processors
Plenty of overclocking features
Solid build and reliable performance
Cons
Downtime issues
Limited overclocking in larger rigs
ASUS B250 mining expert with Intel's 6th and 7th generation processor supports tons of overclocking features to help it stand out as one of the best mortarboards for mining with 8-10 GPUs. Although it is slightly pricier than its counterparts, I found it best for building a Multi-GPU mining rig.
4. ZOTAC B150 – Mining ATX Motherboard for Cryptocurrency Mining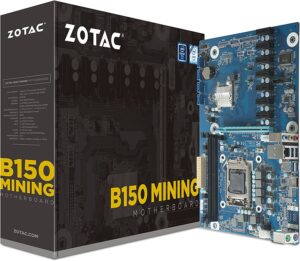 ZOTAC has made its name in the Motherboard industry by designing reliable and dedicated mining motherboards. ZOTAC B150, with the support of 6-8 GPUs, is among the best crypto-mining motherboards. This motherboard is compatible with Intel's 6th and 7th generation CPUs and lets you build a powerful mining RIG to earn maximum profit.
You will take full advantage of its 32 GB DDR4 RAM support and Intel HD Graphics Ready while building a crypto mining rig. The unit comes with 7 PCIex1 and one PCIex16 slot, allowing you to connect up to eight graphic cards. The PCIe slots are pretty helpful in maximizing speed and bandwidth for the most reliable and uninterrupted processing.
Moreover, it includes an HDMI port right next to the I/O panel for video output, and you will also get the onboard audio setup for maximum functionality. In addition to the highly functional design, I loved this motherboard for its premium quality construction. It uses premium-quality hardware and safety mechanism to ensure reliability and long-term performance.
The best hardware and reliable safety mechanism enhance the motherboard's overall performance and result in maximum uptime, allowing you to earn more. This motherboard efficiently competes with ASUS and ASRock Motherboards in terms of quality and performance. The only issue I found out with this motherboard is that it supports CPUs with only 65W power output.
Pros
Easily accessible
Premium build quality
Maximum mining bandwidth and speed
Cons
It supports only 65 watt CPUs
ZOTAC B150 is specially designed to mine cryptocurrencies with the support of an Nvidia Graphics card and is among the best options I have ever tried. With its premium build quality, 8 PCIe slots, onboard HDMI, and Intel HD Graphics ready, this motherboard can outperform many premium options like ASUS Prime Z390-P and ASUS B250.
Buyer's Guide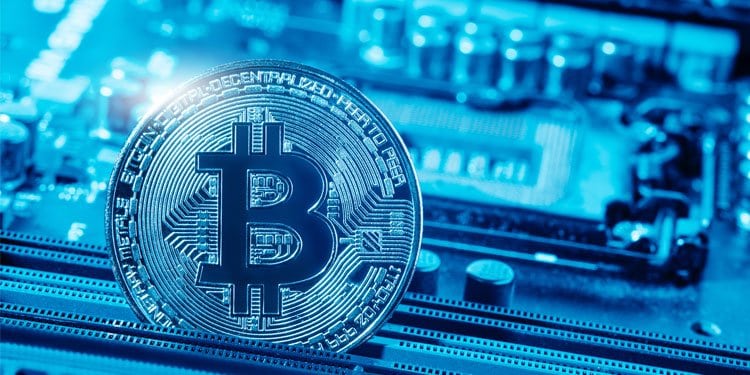 GPU is the most crucial mining component, and the number of GPUs you can use depends on the motherboard. Choosing the best motherboard for crypto mining is vital to benefit from the GPU's full potential. If you are curious to know what makes a motherboard best for crypto mining, give a read to this guide. I've explained all the crucial factors of the best motherboard for mining with 8-10 GPUs.
GPU Support
The GPUs support is the most critical feature while looking for a mining motherboard. To build a powerful mining rig, you will need the support of at least 8 GPUs. A motherboard with support of 8-10 GPUs offers excellent performance for both professional and hobbyist miners. Another thing you need to keep in mind is performance reliability.
There are certain inexpensive motherboards on markets with a higher number of GPU support, but they fail when it comes to performance. If you are looking for the best motherboard for mining with 8-10 GPUs, it is advised to pay a few extra dollars to get the best infrastructure possible in this range.
Processor and RAM Socket Type
The processor socket type decides whether you use an AMD or Intel processor. It also determines which processor generation you can use. These features are less important if you are only concerned with crypto mining. You don't need a high-end or latest processor for this purpose. Therefore it is divided to go with a mid-range or low-end CU that easily fits your budget.
Price And Availability
Since the crypto mining craze is in full swing, finding the best mining motherboards and other computer components is quite challenging. The availability of GPUs is another big issue. You need to consider the availability of GPUs and other components to build a powerful mining rig.
Price is another crucial factor since motherboards aren't cheap. However, you can compare the prices and features of different motherboards to make a wise decision. The good news is that you can find many options like ASRock H110 PRO, offering an incredible price-performance ratio.
Reliability And Performance
Hardware reliability, component safety, and reliable performance make a motherboard best for crypto mining. You must look for safety mechanisms like cooling systems, overvoltage protection, and other safety features to make your investment safe and future-proof. Also, you should look for a robust infrastructure to avoid performance issues like downtime, bugs, and overclocking limitations.
FAQs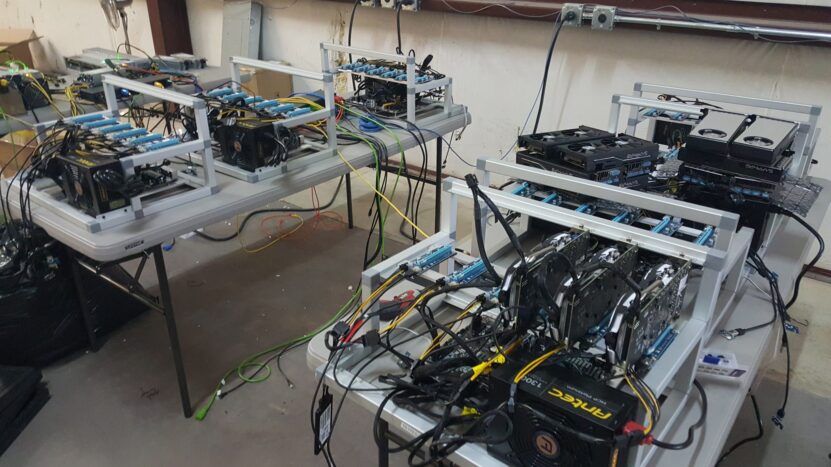 How many GPUs do I need for mining?
GPUs are the most crucial component for mining, and to build a competitive mining rig, you will need at least 6-8 GPUs. A mining rig with 8 GPUs offers decent bandwidth and speed for mining cryptocurrencies. However, you can also find advanced motherboards allowing you to use upto 20 graphic cards to build a more extensive mining rig.
CPU-based mining is not profitable since CPUs offer limited processing speeds, leading to limited output. Therefore, GPU-based mining is getting more popular these days, and CPU performance does not significantly impact crypto mining performance.
Wrapping Up
Choosing the best motherboard for crypto mining is tricky since you have to consider many factors like budget, the type of GPUs you will use, and more. I'm hopeful that this review will help you understand what makes a mining motherboard perfect for you. Although all the options listed above stood out for stability and reliability, the two I liked most are:
ASRock H110 PRO BTC + LGA 1151 Motherboard for its user-friendly infrastructure with onboard details, Multiple SATA and RAM slots, and support of 8-13 GPUs
ASUS B250 MINING EXPERT for its incredible Uptime performance, plenty of overclocking features, premium build quality, and dedicated safety mechanisms
If you are a beginner, I recommend starting with 6 GPUs. It is advised to invest in future-proof components so that you can resell them at a reasonable price when you want to upgrade to a better option