Children gathered around the educator holding the baby alligator. For most of the youngsters, it was their first experience with a reptile and it's an intimate one. They are inches away from the baby's long snout. The lessons learned today about alligators, cypress swamps and conservation will be forever linked with the memories of its scaly skin and little squeaks. This is "stealth" learning at the Orlando Science Center (OSC) – education wrapped in an experience that resonates with the mind and senses.
OSC 2The OSC is focused on changing the way its visitors look at the world. They want everyone to see science in every day so every decision for them is a teachable moment. For example, when it became clear that the HVAC system needed to be overhauled, OSC made the move to become a truly green building. They worked with partners like the City of Orlando, Orange County, Orlando Utilities Commission (OUC), the Darden Restaurants Foundation, the Walmart Foundation, Azur Solar USA and Irvine Mechanical to turn their facility into a working exhibit on eco-friendly sustainability.
A major retrofit was undertaken, including the installation of an energy-efficient HVAC system, LED lighting upgrades, heat-blocking window film, a "cool" roof, water reclamation systems, and a solar panel array. These enhancements have transformed them into a model of energy efficiency and earned LEED Gold certification. OSC is the first nonprofit in Central Florida, and the first existing building in the city of Orlando, to earn that distinction.
"This effort had an educational and a financial benefit for the Orlando Science Center," said OSC President and CEO JoAnn Newman. "We wanted to illustrate the applications of green technologies and nothing is a better teaching tool than showing the savings. Electricity usage has been cut by 50 percent, water usage by 84 percent and gas usage by 67 percent. The Science Center has been able to re-invest those dollars into our organization, creating a more impactful experience for our audiences."
A Hub for the Unforgettable
OSC uses their facility as a showcase for green technologies like energy-efficient lighting, smart building controls and solar panels. For example, the new HVAC system has a chiller plant onsite with oil-free compressors that use magnetic bearings to eliminate friction. It also has an advanced variable flow system with chilled water throughout for cooling. This technology provides superior reliability with the highest energy efficiencies, including the ability to instantly adjust to changing indoor environmental conditions. As a result of these enhancements, energy emissions have been significantly reduced.
It is an example of accessible eco-education with scheduled facility tours available, plus occasional workshops and events tied to sustainability. OSC also has an immersive exhibit featuring a Florida cypress swamp that provides a vibrant lesson on indigenous species. This is their strength: make science come to life through hands-on examples of real-world applications and do it with a showman's flair and a teacher's heart.
"Throughout our history, the Orlando Science Center has been able to leverage what we do best, which is make science really accessible and engaging, and that attracts supporters that share our vision of creating a stronger, well-educated, involved community," Newman said.
OSC 5 The origins of the Orlando Science Center go back to 1955 when the Central Florida Federation of Art and Sciences chartered a small non-profit science museum. Beginning as a "museum on the move," the staff presented demonstrations in area schools and displayed exhibits in store windows and bank lobbies. In 1957, the City of Orlando provided space for a permanent facility in Orlando, Loch Haven Park, where the museum opened its doors in 1960.
For more than five decades, the Orlando Science Center has been known as a hub for unforgettable educational experiences. It has grown into a massive 207,000 sq. ft. beacon of informal learning around Science, Technology, Engineering and Math (STEM). The organization offers engagement, entertainment and "aha" moments to more than 400,000 visitors annually – a number that has grown 45 percent over the last five years. OSC sustains itself through a diverse mix of private and public partnerships, philanthropy and earned revenue opportunities.
Investing in STEM (Science, Technology, Engineering & Math)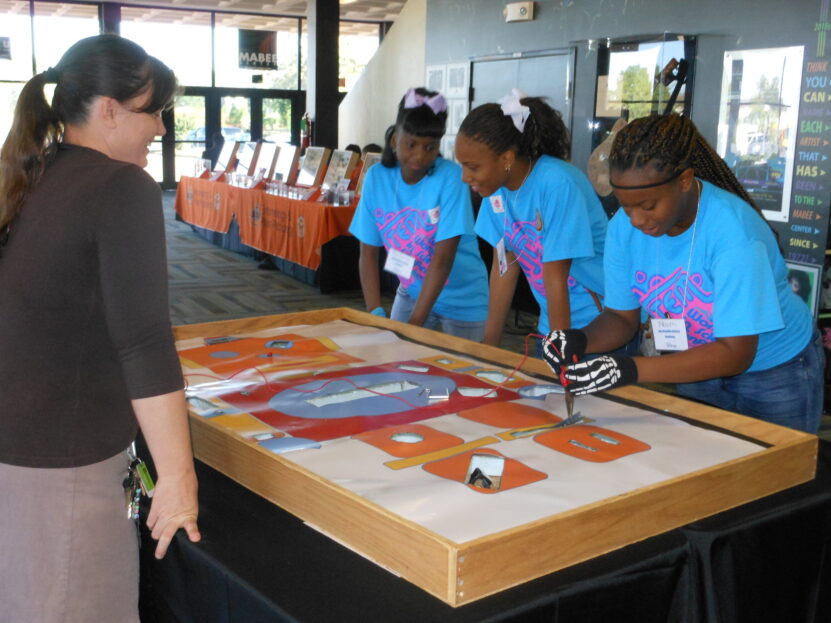 "Investing in the Science Center is a smart plan for our future," said Scott Wilson, partner at McGladrey, LLP and OSC's chair of the Board of Trustees. "If we want Americans to remain global economic leaders, we must prepare our young people today. STEM learning is the most important education we can give children outside of the home. They are tomorrow's technology workforce and the Science Center knows how to reach them."
Research shows that 60 percent of future jobs will require STEM skills that only 20 percent of our workforce currently possesses. Plus, 80 percent of what children know is learned outside the classroom in informal environments. OSC is at the crossroads of STEM learning, easily facilitating opportunities between industry, education, government and families. In 2013, more than 95,000 students across seven counties were touched through OSC's programs both onsite and directly at schools and community centers.
No one organization can fill the STEM pipeline on its own. Partnerships are crucial to success. OSC has created collaborations between the academic world and the public sector that provide a comprehensive approach from cradle to career. Not only do these partnerships offer vital funding to key programs and outreach, but the corporate presence also provides youth with viable role models for STEM professions.
Collaborations like Project AWESOME with OUC, the Orlando Science Center Science Literacy Program sponsored by Chase, the Duke Energy Educational Partnership, Lockheed Martin's Engineering Our Future effort, and Destination STEM funded by AT&T, Siemens and the United Negro College Fund are helping OSC gain momentum. Their educators are impacting students from elementary to middle to high school with hands-on learning and real-life applications of STEM concepts.
These programs reach students, many in low socioeconomic areas, with stimulating hands-on STEM experiences that promote their skills in problem-solving, critical thinking and teamwork. OSC lends its unique expertise in developing and delivering a curriculum that's both educational and entertaining, leveraging partners with an interest in STEM careers for maximum impact on struggling students.
The Sky is Not the Limit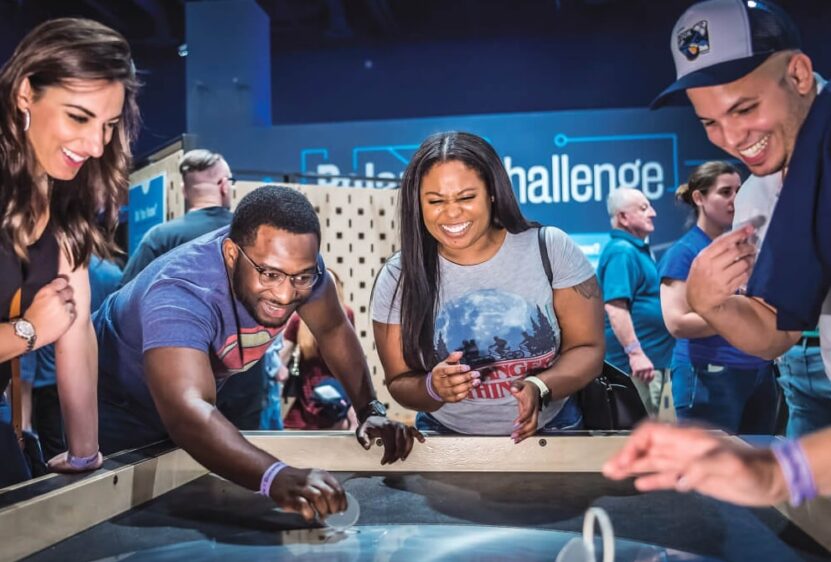 In addition, OSC hosts an annual rotation of traveling exhibits, events and films to attract the general public, including a membership base of more than 8,000 family households. Four floors of exhibits, an observatory with a massive refractor telescope, live shows, camps, workshops, a preschool and two movie theaters (an 80-foot domed giant screen and a state-of-the-art newly renovated digital 3D flat screen) lure thousands of visitors every week.
Vibrant interactive exhibits featuring beloved children's characters like Curious George and Dora the Explorer excite the youngest learners and their parents, while events like Otronicon, the Science of Wine and the quarterly mixer Science Night Live have a significant adult appeal.
What will tomorrow look like? OSC will continue to follow the example it has set with its green building project to inspire people using big experiences tied to the daily relevance of science. Learning about solar energy by baking cookies with the sun or understanding a sustainable building by seeing the impact on your monthly electricity bill can be an amazing lesson. They are masters of informal education, cloaking science concepts in hot topics like video games, guitars, wine and even Star Wars.
Orlando's exponential growth bodes well for OSC's future and they are ready. Newman, her team and their board have a vision and it includes an expanded role for the Science Center as a facilitator, an educator and a friend to the community. "Science is all about new possibilities," Newman said. "We can't wait to show everyone what comes next."
Community PartnershipsOSC 3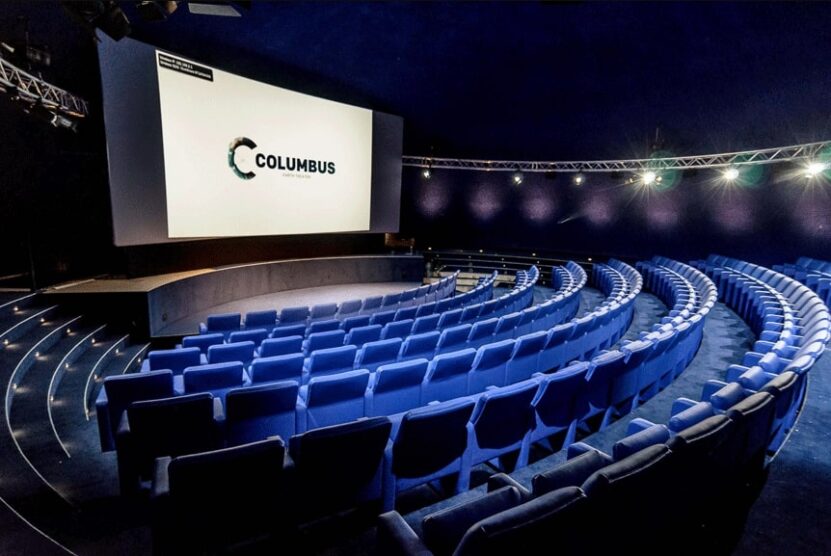 Project AWESOME – A partnership between the Orlando Science Center and the Orlando Utilities Commission (OUC), Project AWESOME (Alternative Water & Energy Supply; Observation, Methods & Education) has allowed OSC to reach nearly 34,000 students since its beginning in 2009. These in-class workshops impact every fifth-grade student in OUC's service territory. Students are engaged in hands-on STEM-based challenges like designing a green roof and building a solar-powered carnival ride. OSC developed and implemented the curriculum based on OUC's priorities around renewable energy and water conservation.
National Geographic 3D Theater – The newly launched Digital Adventure Theater features state-of-the-art 4K projection, Dolby sound, the remarkable high definition "active" 3D and a historic partnership with National Geographic. There are currently less than 10 National Geographic Theater partners in the country and OSC was one of the first.
Otronicon – For nine years, multiple industry partners have joined Orlando Science Center to celebrate the role of interactive technology in the way we live, learn, work and play during Otronicon, a four-day festival every January. The event has the opportunity to inspire a child's interest in science and tech careers through the appeal of video games and interactive technology. Partners like Lockheed Martin, Florida Hospital, University of Central Florida, EA Sports, Disney, Microsoft and many others provide guests with unprecedented hands-on access to their latest technology. The most recent Otronicon attracted 12,600 guests over four days.