As Central Florida thought leaders focus on making the region known for medical advancements in treatment, education, technology and research, it is important to be reminded that one of the great innovators in orthopedic medicine opened his clinic in Orlando back in 1936.
Jewett Orthopaedic Clinic Continues Legacy of Care and Innovation
As Central Florida thought leaders focus on making the region known for medical advancements in treatment, education, technology and research, it is important to be reminded that one of the great innovators in orthopedic medicine opened his clinic in Orlando back in 1936. The Jewett Orthopaedic Clinic began as a vision of its founder, Dr. Eugene L. Jewett, a student of chemistry and engineering at Cornell University, before graduating from Harvard Medical School and moving south to Florida.
As Dr. Mark Beckner, one of the Clinic's surgeons reflected, "You can speak the name with pride, because most people have heard of it and say, 'Is that the same doctor who invented the Jewett Nail or the Jewett Brace?' And I say, 'Yes, that is our founding father.'"
One of the inventions Dr. Beckner referred to, the Jewett Brace (also referred to as the Jewett™ Hyperextension Orthosis), revolutionized how patients with back surgeries were cared for. At the time, the approach to back surgery was to immobilize the entire patient, using extended bedrest and heavy, unhygienic plaster body cast. But older patients, in particular, often developed complications that proved more dangerous than the trauma itself. Dr. Jewett designed a lightweight back brace to replace the cumbersome casts, and the result was a faster, more complete recovery following surgery. The device is still used today.
Back in the 1930s, orthopedic surgery was called "trauma surgery." When not treating local patients, "Dr. Gene" as he was known, didn't wait for patients to come to him, but was on the road providing care to trauma patients in outlying areas from Gainesville to Fort Myers. He was alerted to accidents by listening to a police scanner and because facilities were often relatively primitive, he carried his own portable X-ray machine and fracture frame with him in his car on each trip.
During World War II, Dr. Jewett served on the hospital ship "The Good Samaritan," performing hundreds of surgeries, and then returned home to develop yet another invention that revolutionized orthopedic surgery and treatment, the Jewett Hip Nail.
Prior to this development, a broken hip was often fatal or certainly immobilizing to the patient, but Dr. Jewett's device dramatically changed those outcomes and was used for decades. In the early 1970s, Jewett Orthopaedic Clinic performed Florida's first total hip replacement and also performed Central Florida's first total knee implant.
In the Game
Since the 1980s, Jewett's name became associated with the best in sports medicine. Established in 1985, Jewett's Sports Medicine Center was where sports teams and athletes throughout Central Florida turned for their medical needs. Jewett Orthopaedic Clinic currently serves as team physicians for the NBA's Orlando Magic, the Orlando Solar Bears, the University of Central Florida Athletics, Rollins College Athletics, and even the Orlando Ballet and Cirque du Soleil.
Obviously professional and collegiate athletics is a big business, and these athletes have to keep their bodies in peak condition. Therefore, any injury or extended recovery presents a challenge to their career, but the same can be said of an injury to anyone, regardless of their age or profession. It is the skills and experience demonstrated on the courts and playing fields that the Jewett team works to bring to all its patients.
Jewett's contribution to sports medicine was a tradition begun by Dr. James Barnett, a noted orthopedic surgeon who served as the Orlando Magic team doctor since the time the franchise began. Unfortunately, his life was cut short when he and his wife died in a plane crash on their way to a Mississippi-Auburn football game.
Speaking of Jewett's relationship to the Magic, Owner Richard (Rich) DeVos said, "When we came to Orlando in 1989, we needed a dedicated, talented team of physicians who understood our unique needs, and Jewett was a natural choice. They have been behind us every step of the way, helping our players stay healthy and achieve peak performance."
Alex Martins, president of the Orlando Magic, added, "We not only think Jewett Orthopaedic is the best group of orthopedic physicians here in Central Florida; we think they are the best throughout the NBA."
Today, Jewett's Dr. Craig Mintzer serves as the Magic's team physician. The energetic Bronx native said, "I became an orthopedic surgeon because most people with orthopedic injuries are highly motivated to get better. They come to you for help with a specific problem; you identify it, you fix it and they're on their way."
Mintzer emphasized that the care given to the most high-profile all-star is the same that is given to the "Little Leaguer."
"From day one, when Dr. Jewett drove around Central Florida in his truck with an X-ray machine, the clinic has taken care of Central Florida folks like they are family," he said. "We have treated children, the elderly, and professional and recreational athletes alike, from sprains to major injuries – all one patient at a time, one friend at a time, one family member at a time.
We are honored to have been allowed the privilege of serving the generations in this community that we all call home. His insistence that 'the patient comes first' has been reflected by the Clinic throughout its history."
The Innovation Continues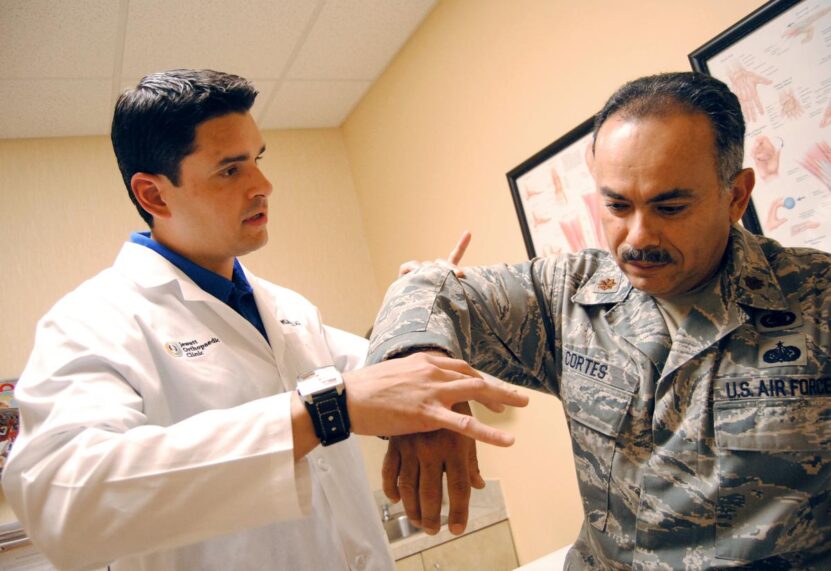 Another carryover from Jewett's sports medicine experience is the team approach they have to treatment and care. "One thing that distinguishes Jewett is that it has a great reputation for its specialties," Dr. Mintzer explained. "We are ultra-subspecialists, which is what I like."
Meaning, as Dr. Mintzer focuses on knee and shoulder injuries, the area most common to athletes, other Jewett doctors specialize in hand, foot, spine, hip or other orthopedic injuries. As a result, Jewett physicians are experts in their individual fields, but also work closely together, readily tapping into the resources and specializations of their Jewett colleagues.
Seeing more than 140,000 patients a year, Jewett's healthcare team is one of the most respected and experienced in the Southeast U.S. Today, Jewett has 25 physicians and 13 physician assistants working in eight offices with over 200 employees. They are proud of what they have accomplished in their soon-to-be 80 years of existence, but it is the daily patient success stories that continue to inspire them.
Dr. Jewett's philosophy of care and his innovative spirit has served as a guiding force, inspiring many Jewett physicians to continue introducing new technologies and treatments that enhance patient outcomes. Currently, several of their physicians are certified to use the new MAKOplasty® robotic arm technology. These devices offer an unprecedented level of precision and accuracy in aligning and placing orthopedic implants, which are important factors in improving surgical outcomes.
"Ultimately, it is our mission to ensure that our patients and their families get the best experience and outcome," Charles M. May, Jewett's CEO, said. In pursuing that goal, they opened the country's first and Central Florida's only walk-in orthopedic convenient care centers in Winter Park and Lake Mary. Offering extended hours and open on Saturdays, it is dedicated solely to treating broken bones, sprains, strains and lacerations, the kind of treatments that normally mean a visit to the hospital emergency room.
Along with Florida Hospital Surgical Care Affiliates, JLR Center for Pain Medicine and The Ear, Nose & Throat & Plastic Surgery Associates, Jewett's physicians are invested in a new two-story, 25,000-sq.ft. outpatient Physicians Surgery Care Center going up adjacent to Jewett's Winter Park clinic on Orange Avenue.
The state-of-the-art facility is designed to keep pace with the growing shift from inpatient to outpatient surgical procedures. It is the kind of innovation and adaptation that would make the legendary physician, who founded the practice, proud.